HMRC have released additional statistics to detail the amount of claims that have been made in June for the SEISS self employed income support scheme.
June saw around £400 million paid out to around 200,000 claimants, meaning an average payout in June of £2,000. The average overall payout made since applications for the scheme were first opened, which number over 2.5 million claims, is £2,900.
Two-thirds of the eligible claimants for self employed help are male, and though fewer females are eligible, fewer females actually make a claim compared to men - about a ten percent difference.
90 percent of claims are made by people aged between 25 and 64, which is expected - and over 75 percent of eligible people in that age group make a claim.
HMRC has previously released statistics that covered the months of March, April and May and showed age groups, locations and trades of SEISS claimants.
The new statistics covering the month of June also are shown below.
SEISS grant elibility and claims up to June 30th, split by gender: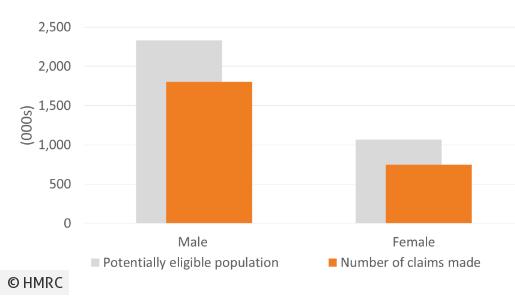 | Gender | Potentially Eligible People | Total Claims Received | Total Claim Value | Average Claim Value |
| --- | --- | --- | --- | --- |
| Male | 2.328m | 1.805m | £5.7bn | £3,200 |
| Female | 1.067m | 745k | £1.699bn | £2,300 |
| All | 3.399m | 2.553m | £7.416bn | £2,900 |
SEISS grant elibility and claims up to June 30th, split by age group: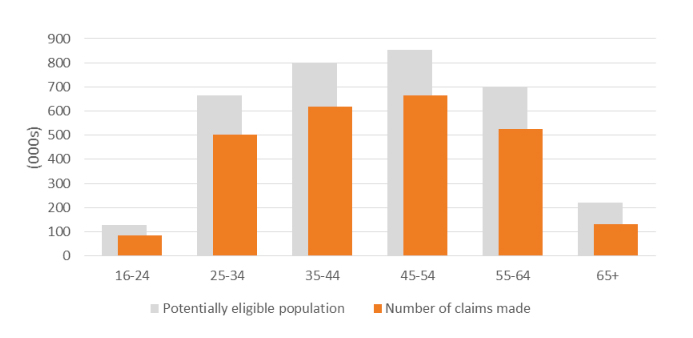 The proportions of claims by industry appear similar to the previous statistic set that was up to 31 May.
Claims open for phase two, for which we have a SEISS calculator, in August.